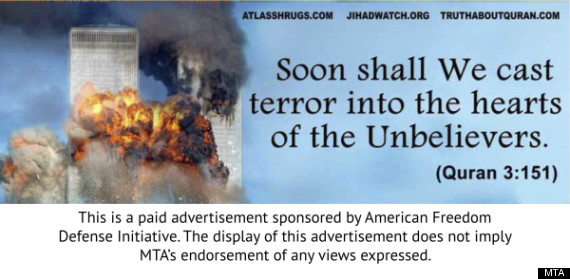 Mazeda A. Uddin
The creators of the Constitution made religious freedom part of the Bill of Right.
WHAT WE ARE TEACHING OUR CHILDREN RACISM AND HATE CRIMES?
In these pictures provided by anti-Islamic blogger Pamela Geller, Founder and Executive Director of the American Freedom Defense Initiative (AFDI) and Stop the Islamization of America (SIOA) and also the founder, editor and publisher of the blog Atlas Shrugs.com. She claimed that both AFDI and SIOA are human rights organizations dedicated to freedom of speech, freedom of conscience and individual rights.
But her ads are clearly supporting Israel while instigating hate crimes against Islam by misinterpreting the Holy Quran by cunningly hiding under the shadow of freedom of speech. For her so called individual right she does not bother undermining religious freedom for billions! All she wants is her right to be valued at the cost of others.
These groups are well known for their inflammatory Anti-Jihad ads. The group that equated Muslim radicals with savages in advertisements last year has brought more new anti-Islam attack ads to New York City's subway systems.
AFDI has purchased space next to 228 clocks in 39 stations for ads with an image of the burning World Trade Center and a quote attributed to the Quran saying, "Soon shall we cast terror into the hearts of the unbelievers. It is a quote from the" Quran" which is taken out of context! Also the sign uses the phrase "Defeat Jihad". The word "Jihad" is an Arabic word and in Islam "Jihad" means strives and struggles.
Why Ms. Geller has taken a hate campaign against Muslims? She is an educated women with journalistic knowledge she realizes Islam has become the fastest growing religion in the world.
We have First Amendment Rights and we must preserve these rights. Who is Pamela Geller to decide that her group should be allowed to express a certain point of view over another group of people?
She can have inclusiveness in with her groups but can not and must not disrespect and misrepresent other religions at the same time. The poster is very offensive and against all Muslims. Quoting a reference from the Quran out of context shows the hate towards Islam.
We all know Pamela Geller was behind the Campaign to impede the building of a Mosque at ground zero. She has held many demonstrations of Islam phobia over the past several years. Since then we witnessed the massacre of six Sikh Americans in the temple in Wisconsin; the burning of a Mosque in Joplin, Missouri, and the desecration of a Muslim cemetery in Illinois.
Here in New York we have witnessed the surveillance of Muslims by the NYPD, which flagrantly violets civil and human rights and has not, generated a single leads. And most recently was the death of Sunando Sen who was pushed death on the number 7 subway tracks by woman because she hates "Muslims". I, like many went to the rally with many other organizations to stop racism and hate crimes in NYC.
When Andre Brevik set off a bomb in a youth camp in Norway killing scores of people, he cited an article by Pamela Geller, the women behind the subway ads.
These ads are clearly hateful and racist. But the additional thing to realize is that by vilifying and dehumanizing Muslims, they work to conscript people into supporting the U.S. government's ongoing covert and overt wars against Muslim people.
We do not dispute the right of people to voice opinions no matter how revolting we may find them. However this freedom comes with a responsibility to challenge these sentiments and educate people as to their harmfulness and ignorance.
These ads attack our most basic communal values: they try to exploit the city's grief and anger over 9/11, and they demonize and intimidate members of a particular religious group.
Muslim communities in the United States not only endure the everyday experience of humiliating racism, but also are subjected to expansive and illegitimate government surveillance, along with egregiously unjust detentions and prosecutions in U.S. prisons and courts. These new ads work as propaganda to facilitate and support violence against Muslims in the United States and abroad.
Islam positions paganism as ignorance, monotheism redeeming man, and acts such as burying infant girls alive are considered acts of ignorance ..
All human beings are to be respected and God alone is the Judge. Religion cannot be coerced and no human being can be cursed. Every right carries some responsibility and accountability. Any right, which fails this test, is not defendable. Authorities have right to remove the advertisement.
The New Yorkers I know are proud to share this city with neighbors of all cultures, nations, and religions, and we reject hateful attacks that target Muslims or anyone else—so I ask all my Community to help us put together this campaign. Please Responds to hateful ads in the subway: because you can be next victim too!
We invite you to join our efforts in the Jackson Heights neighborhood to educate people via forums and demonstrations. We hope to be able to set a date for such activities by mid-March. We will be reaching out to you by phone. Perhaps you would like to join our planning committee; perhaps your organization can provide space for a forum; or perhaps you simply wish to be kept informed of our activities.
We look forward to speaking and working with you.
In Solidarity,
Mazeda A. Uddin
E-mail; This e-mail address is being protected from spambots. You need JavaScript enabled to view it
ASAAL National Women's Coordinator
Queens County Committee Member
Comments
(0)
Write comment